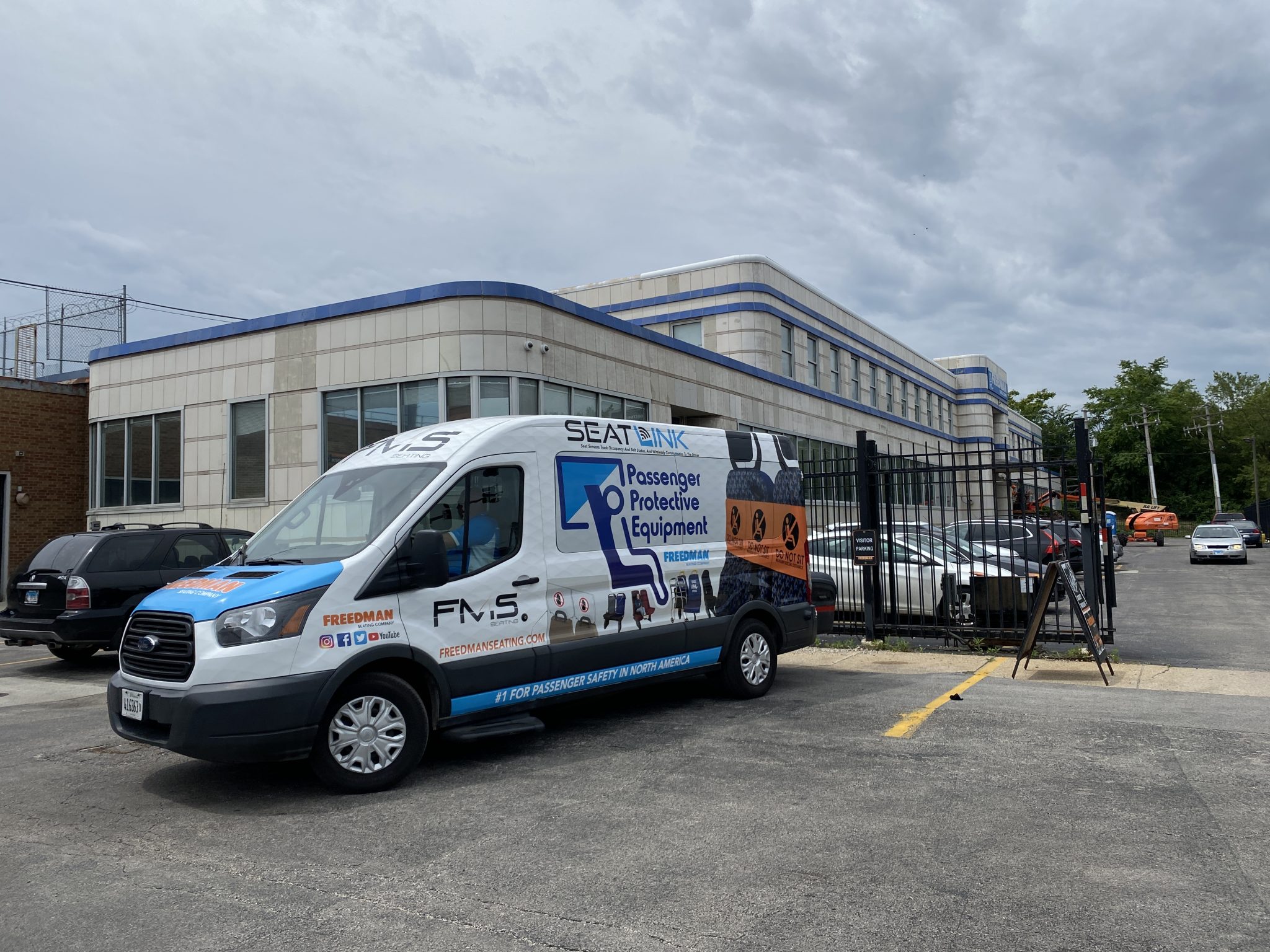 The Safe Ride Tour kicked off in 2020 and continues to visit transit agencies, dealers, OEMs and industry events across the U.S. The tour provides opportunities to learn more about passenger safety in commercial and public transportation, featuring the latest in seating and safety technology.
---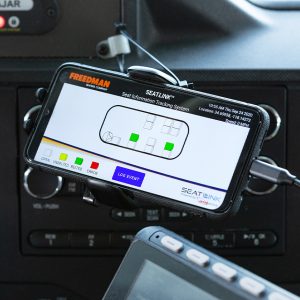 2021 Lineup:
GO-ES Seat
The Freedman GO-ES Seat is designed for flexibility to accommodate your passengers growing needs.  Designed for easy customization, The GO-ES Seat is shipped "option ready" giving you the flexibility to quickly add accessories in the field. A favorite for small buses and transit vans.
3-point seat belt

202a Headrest + Grab

CMI NPF Fabric. Nanocide® technology suppresses the growth of algae, mold, mildew, fungi and bacteria growth and proliferation which cause unpleasant odors, discoloration, staining, and deterioration of the product.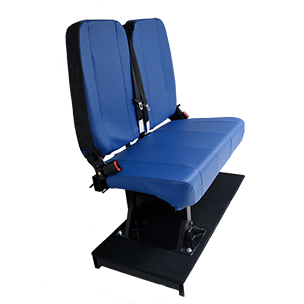 GO-ES SpaceSaver Foldaway
The newly redesigned GO-ES Foldaway seat is the slimmest, lightest, and most customizable 3-point foldaway on the market. The upgraded SpaceSaver design provides even more aisle space when the seat is in both stowed or deployed positions.
New design adds up to 2″ 

of aisle space when seat is deployed or stowed!

3-point seat belts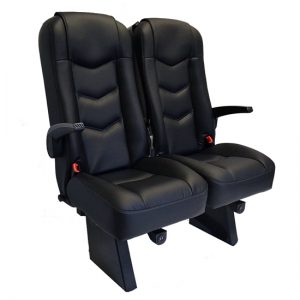 Venezia Seat | Eleganza Collection by FMS Seating
Experience the utmost in luxury, comfort, and style. The Trieste seat is available with several different insert styles and upholstery materials, allowing you to customize the look that best fits your needs.
3-point seat belt
Recliner
Messina Armrest
USB Power Outlet
Hamilton Vinyl by CMI with contrast stitching
Embroidered logo on headrest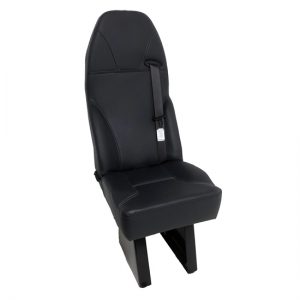 Commuter 125
Designed for commercial bus and van markets, the Commuter 125 Seat by Freedman Seating is lightweight, attractive, comfortable and safe. It's executive styling provides a first-class look without compromising weight or safety. Best in class hip-to knee makes this a perfect fit for vans, wagons and buses alike. This high-back seat meets FMVSS 210 and 202A. The "125" celebrates our 125th anniversary and the year the new Commuter seat was designed and developed. (2019)
3-point seat belt
Recliner
US Armrest
Embroidered logo on headrest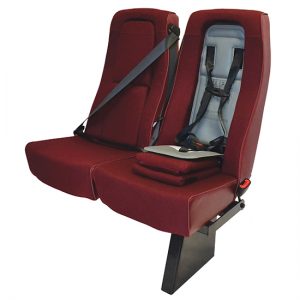 Caregiver Seat
The newly upgraded Caregiver seat is designed for a comfortable, safe ride for both children and guardians. 3PT seatbelts have been added for adults, while the optional ICS is available for children from 22-78 lbs. A tapered back provides unrestricted viewing for drivers, and best of all, the shoulder belts can be adjusted in seconds without taking the seat apart, avoiding clumsy operations.
Integrated Child Seat (ICS)
3-point seat belt

Meets FMVSS 207/210/213

CRS Hooks

Repel cloth that actually repels moisture! Repel is antibacterial and anti-microbial fabric ideal for retirement homes, senior centers, para-transit, hospitals, dial-a-rides and more.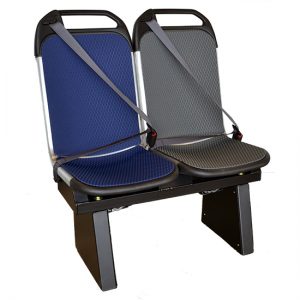 CitiPro 3PT Seat
European styling, ergonomic design, and 3-point belts make the CitiPro 3PT a seat passengers want to sit in. The ultra-thin backrest provides exceptional hip-to-knee room. The CitiPro is completely modular – any part of the seat can be replaced in minutes. It is perfect for short and medium distance trips. Upholstered with or without padding and in any vinyl or cloth. Non-upholstered cosmetic inserts make for a virtually maintenance-free seat.
Meets FMVSS 207/210
Integrated 3-point seat belt
Built-in hand grab
Choice of upholstery or Anti-vandal inserts with KEVLAR®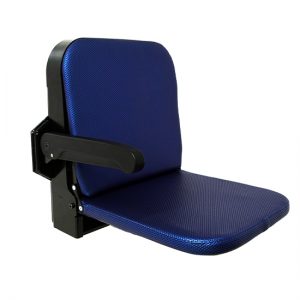 The Wall Flip Seat
Freedman Seating's Wall Flip is a compact seat design that is also lightweight, space-saving and robust for everyday use.  The Wall Flip is designed with an easy-to-use flip-up feature for additional storage space.
ADA and APTA White Book Compliant.
Frame – Powder coated carbon steel or stainless steel.
Space Saving Feature – 5 3/8˝ depth provides maximum aisle space Please confirm
Mounting – Attaches directly to wall or can be cantilevered Please confirm  YES
Theater style, with optional nudge feature.  Nudge seats stay in the down position until the seat cushion is "nudged" up
On display in the tour van with Morbern vinyl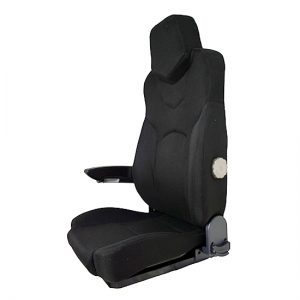 Sport 2.0 Driver Seat
The Freedman Sport 2.0 Driver Seat is designed, tested and built to comply with all applicable FMVSS requirements. With standard recliner, 2-way adjustable lumbar and European styling, the Sport 2.0 is the ultimate in driver seat comfort and value.
GD Suspension
2-way adjustable lumbar
Built in headrest for comfort and style
The highest weight rating (400 lbs.)
Hole pattern will accommodate:

Ford E-Series (Seat Delete) Cutaway

GM/Chevy G-Series Cutaway

Adnik power base

6" & 7" Slides

Tilt Riser