It was over 125 years ago when Hyman Freedman and his employer, Columbia Cab Company, exhibited at the 1893 World's Columbian Exposition in Chicago.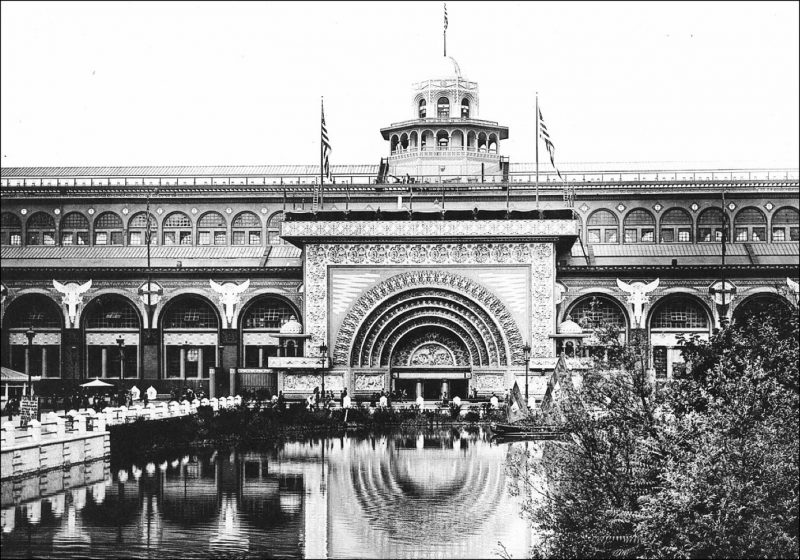 The World's Fair covered 690 acres, featuring 200 buildings of predominantly neoclassical architecture, canals and lagoons, and people and cultures from 46 countries. More than 27 million people attended the exposition during its six-month run. Its scale and grandeur far exceeded the other world's fairs, and it became a symbol of the emerging American Exceptionalism. In addition to recognizing the 400th anniversary of the discovery of the New World by Europeans, the fair also showed the world that Chicago had risen from the ashes of the Great Chicago Fire, which had destroyed much of the city in 1871.
The first Ferris Wheel was featured at the World's Fair; and among the other attractions and innovations, several products that are well known today were introduced, including Juicy Fruit Gum, Cream of Wheat, Cracker Jack, and Pabst Blue Ribbon beer, among many others.
Hyman Freedman exhibited in the popular Transportation Building (now Rogers Park).  Chicago architecture firm Adler & Sullivan designed the building, which cost $300,000 to build ($8.3 Million in 2019).  An elaborately decorated golden arch surrounded the main entrance, and the interior design resembled a Roman basilica. Planners divided the exhibits into three parts: railway, marine, and vehicle. According to the official event directory, Columbia Cab Company featured baby carriages, stools and other small furniture.
After the World's Fair closed in October of 1893, celebrations continued. On June 26, 1894, Hyman Freedman was awarded a diploma of honorable mention for his upholstery skills at the event. As the 20th century approached, Freedman began making seat cushions for horse-drawn buggies. Prior to the Great Depression, the Hyman Freedman Company patented several spring structures and other seating related technologies. A changing economy and advancements in transportation would bring opportunities with delivery trucks. Hyman began making driver seats for small delivery companies. Today, Freedman Seating supplies driver seats for major package handling services including UPS, FedEx and the United States Postal Service.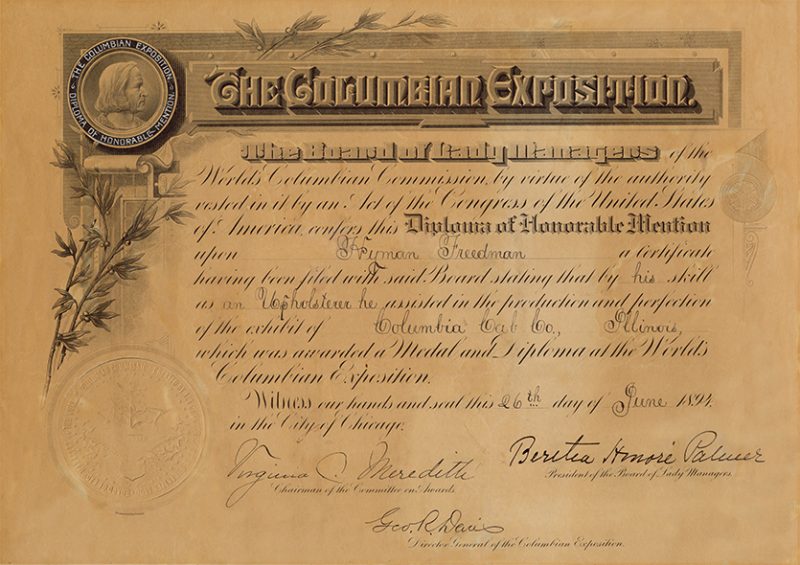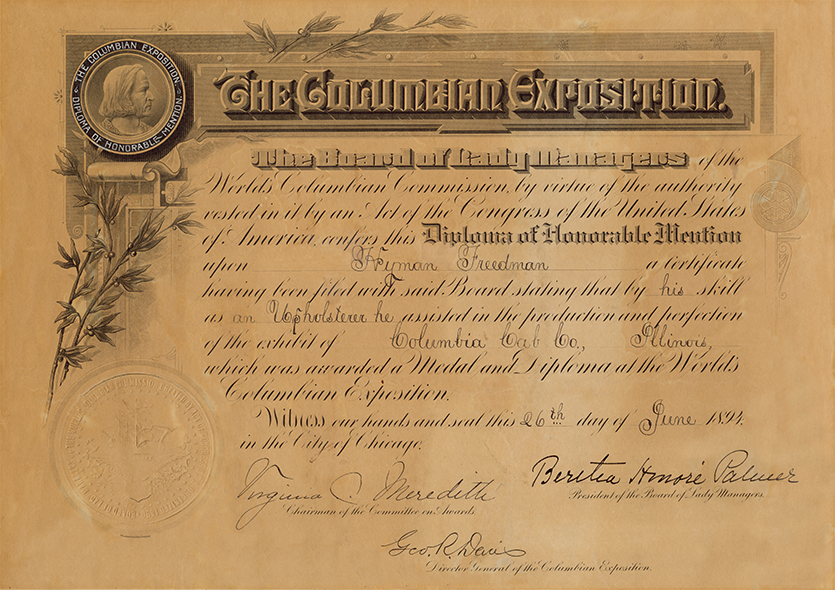 Hyman continued to build the family business alongside his son, Paul Freedman. The growing company would continue expanding into new markets throughout the 20th century, making passenger and driver seats for commercial vehicles, RV, school buses, etc., and even office furniture.
Third generation leadership came with Gerald Freedman, who graduated from the Illinois Institute of Technology in 1959 with a degree in Engineering. Although he worked with the company throughout his education, "Jerry" was full-time the year he graduated. The eventual President and CEO continued developing new products and patenting technologies that would lay a foundation for Freedman Seating to become North America's leading supplier of passenger seating solutions. Gerald currently serves as Chairman of the company. By the 1990's, the fourth generation of family executives would include Craig Freedman, Dave Cohen, and Dan Cohen.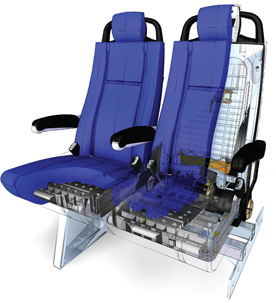 After graduating from Northwestern University in 1988, Craig worked as an analyst with Morgan-Stanley before pursuing his MBA from Harvard University. In 1992, Craig returned to Chicago to focus on strategic planning and operations at Freedman Seating, where he would eventually become President and now serves as CEO.
Dave Cohen, General Manager, graduated from Colorado Mountain College in 1978. Dave lived on and managed a farm for four years until joining the family business in 1982.
Current President, Dan Cohen, began his career in sales. After graduating from the University of Denver in 1983, Dan spent six years with Lettuce Entertain You managing several restaurants and food service operations. He joined Freedman Seating full time in 1989 as Sales Manager.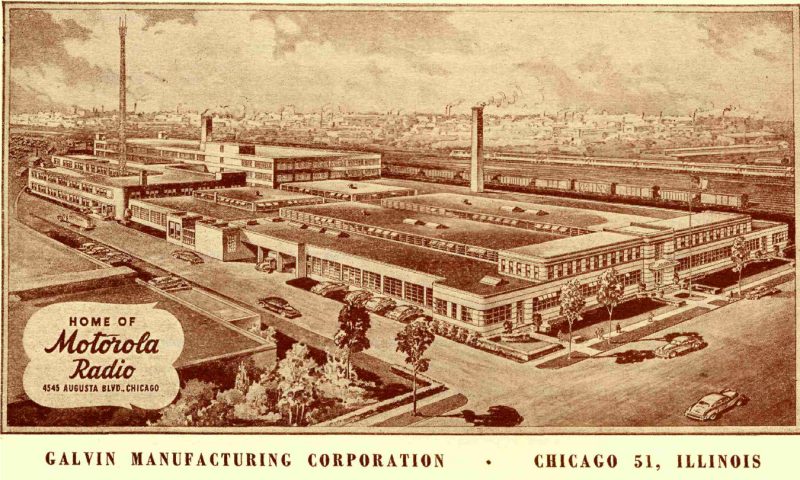 The company has gone through sizeable increases in revenue, workforce, and space in the 21st century. Global partnerships, new markets, and lean manufacturing have made Freedman Seating one of the world's largest specialty seating manufacturers serving OEMs, dealers, operators and government agencies. A team of nearly 1,000 employees work out of two facilities, one in in Chicago, IL and the other in Rochester, IN (dba Freedman Mobility Seating) along with sales representation across the US. Today's headquarters is located on Chicago's west side, 4545 W. Augusta Blvd. Once home to Motorola, the 500,000 sq. ft. office and factory has an extensive history of manufacturing.
Over a century after Hyman Freedman began his work in upholstery and seating, Freedman Seating's core values have not changed. The family owned-and-operated business is committed to meeting the highest standards in quality and service. In doing so, Freedman Seating continues to be an industry leader as modes of transportation advanced from horse buggies to delivery trucks, buses, trains, ferry boats and more.
The World's Columbian Exposition
May 1, 1893

Hyman Freedman exhibits in the Transportation Building alongside employer, Columbia Cab Company.
Honorable Mention
June 26, 1894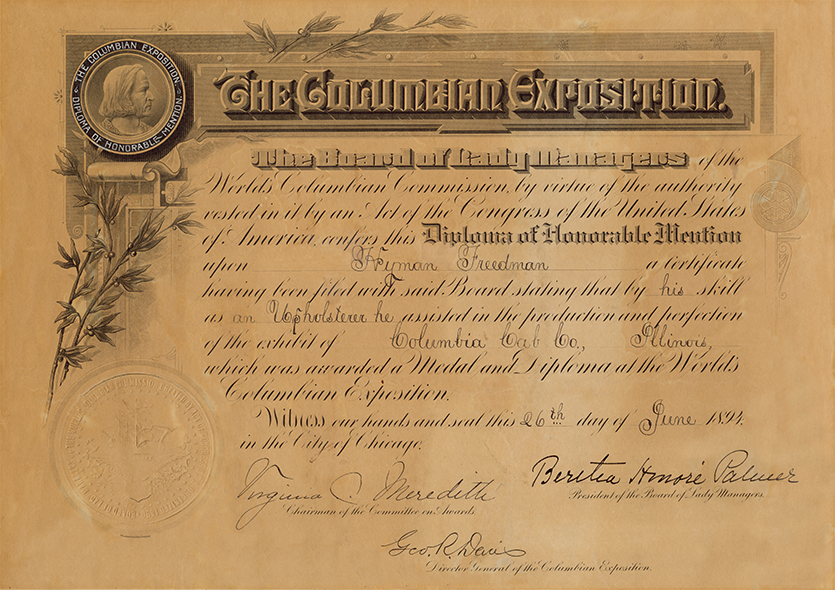 Hyman Freedman receives an honorable mention for his upholstery skills at the 1893 World's Columbian Exposition in Chicago.
U.S. Patent #1843550
February 2, 1932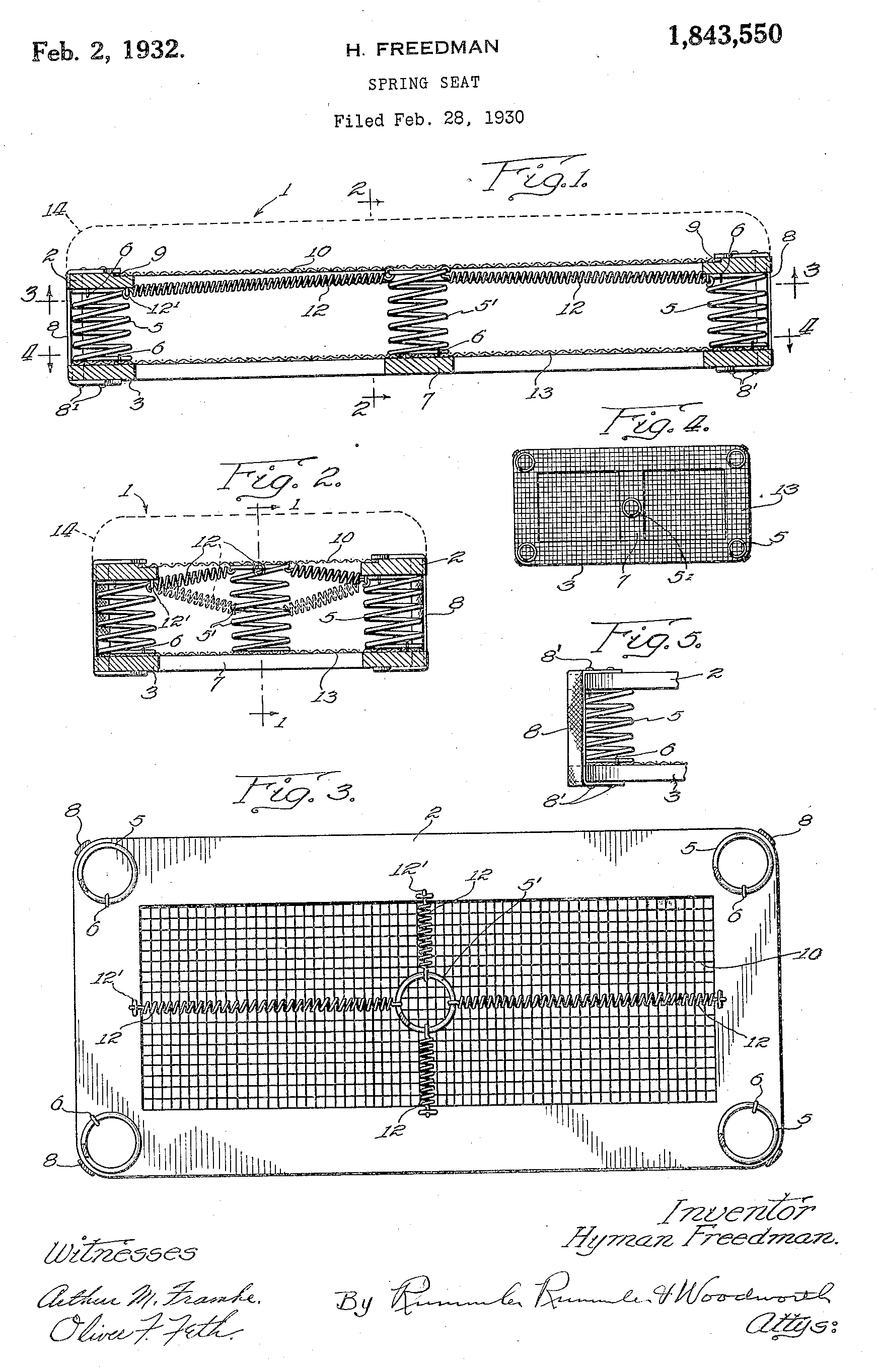 Hyman Freedman receives first patent (1843550) for spring seats.
Skee-Whee
December 10, 1969

The Skee-Whee was a unique concept. In place of a rear wheel drive, the bike is propelled by a track system (similar to the snowmobile) that moves the vehicle over most any terrain, light snow, sand, or grass.
Move to 4545 W. Augusta Blvd.
October 1, 1999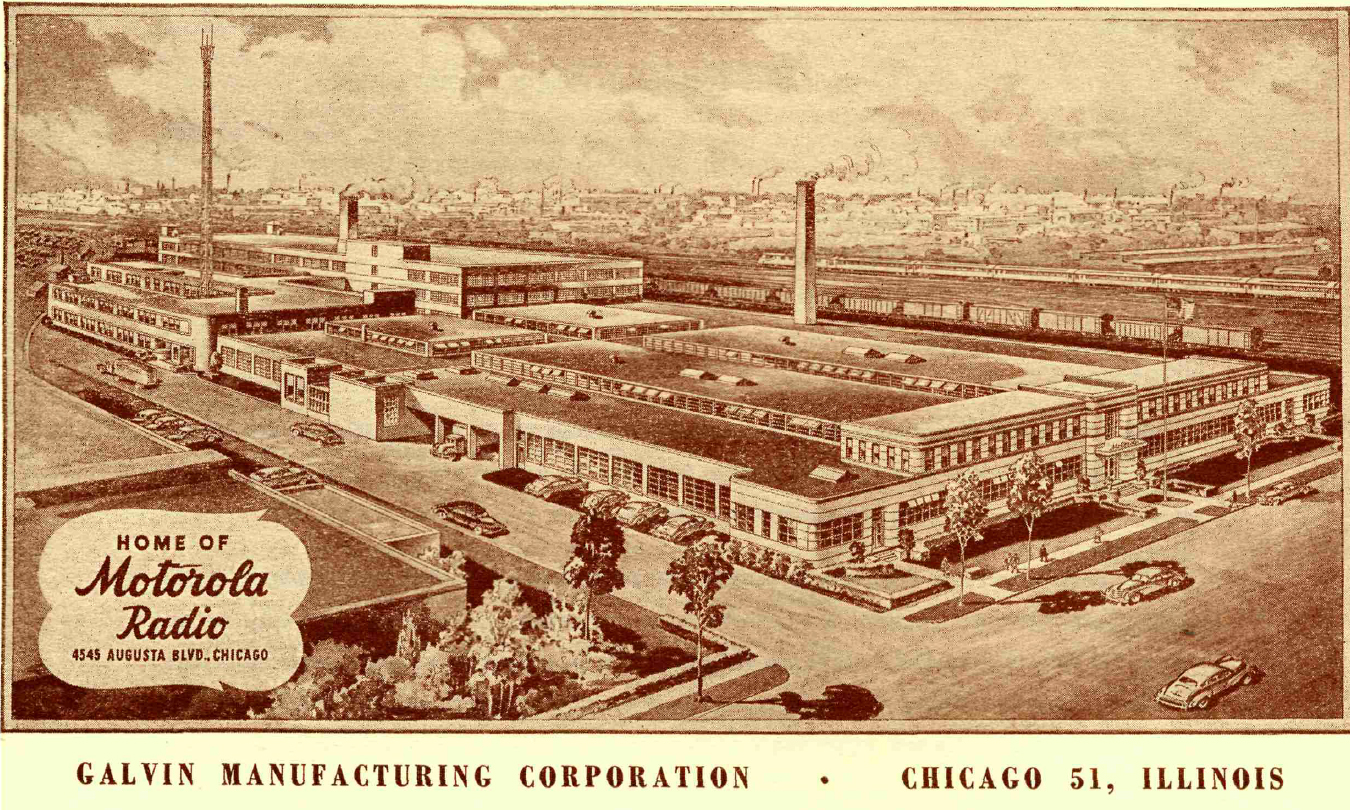 Freedman Seating Company moves to a new 350,000 sq. ft. factory and and office space on the west-side of Chicago. The famous building was once home to Motorola and the invention of the 2-way radio.
U.S. Patent #6398302
June 4, 2002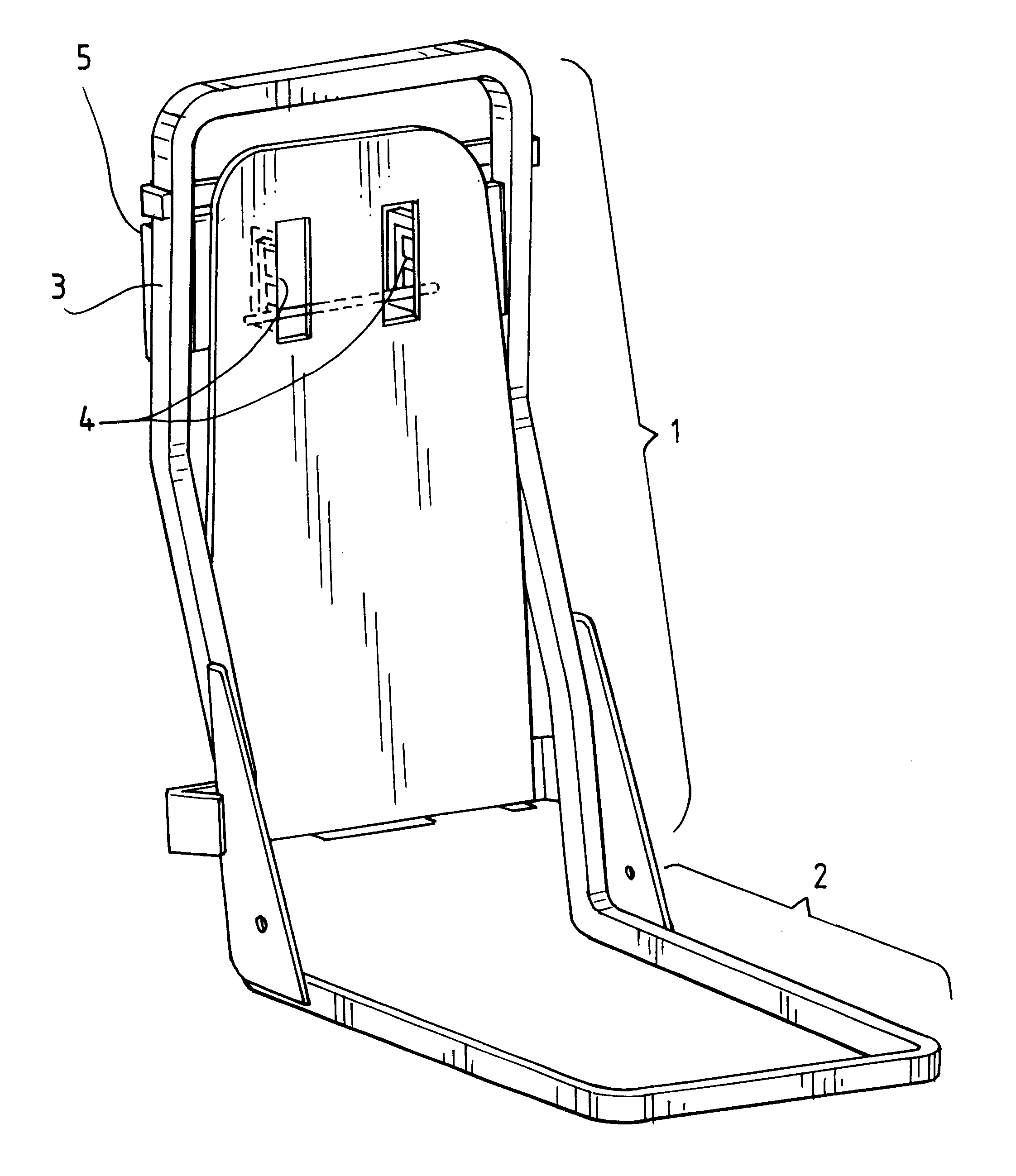 Gerald Freedman receives patent (6398302) for adjustable child seat.
4ONE Joint Venture Established
October 1, 2005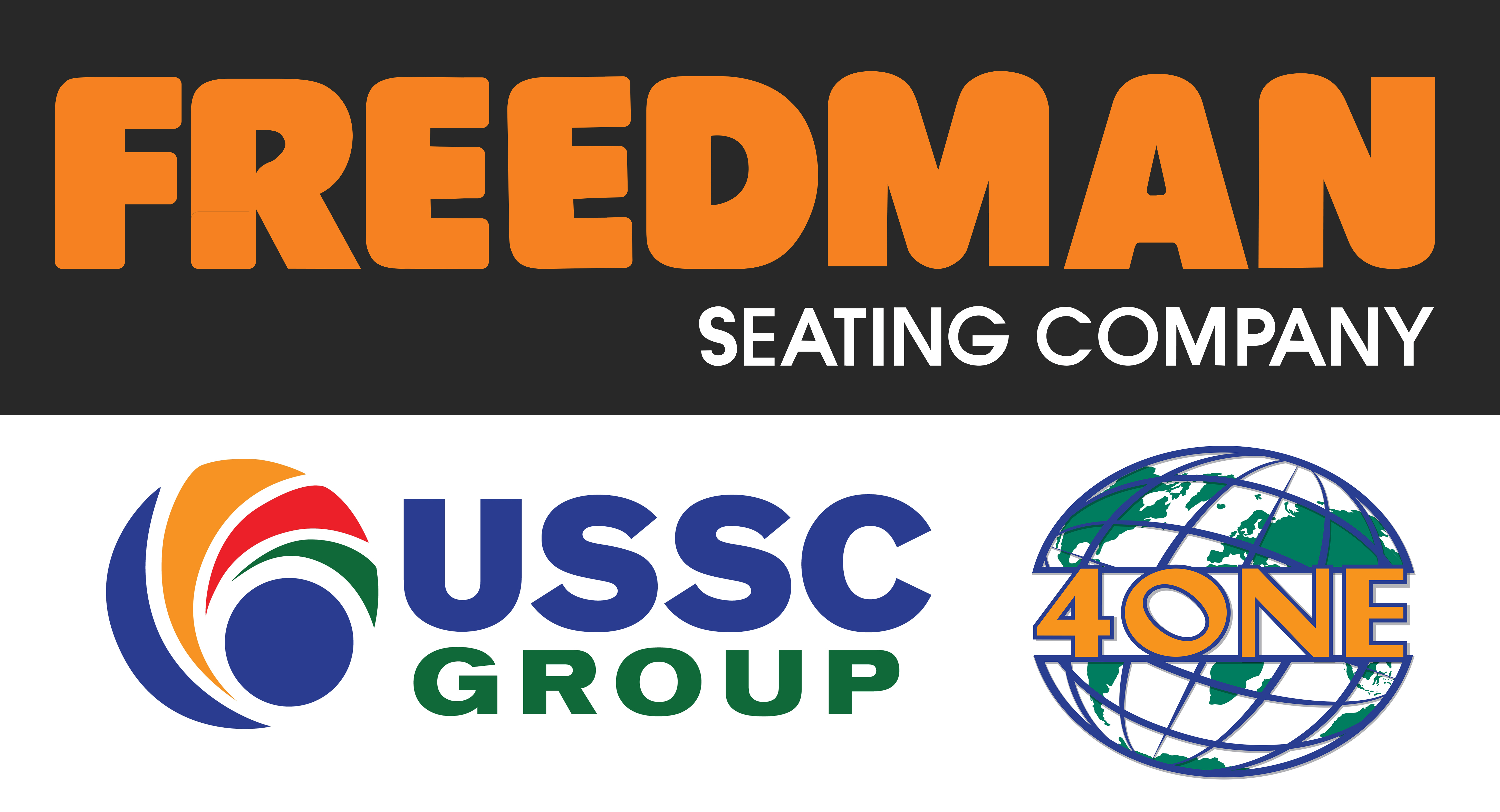 A joint venture with USSC Group to offering seating solutions for all sectors of public and commercial transportation throughout the US and Canada.
Freedman Mobility Seating
December 21, 2011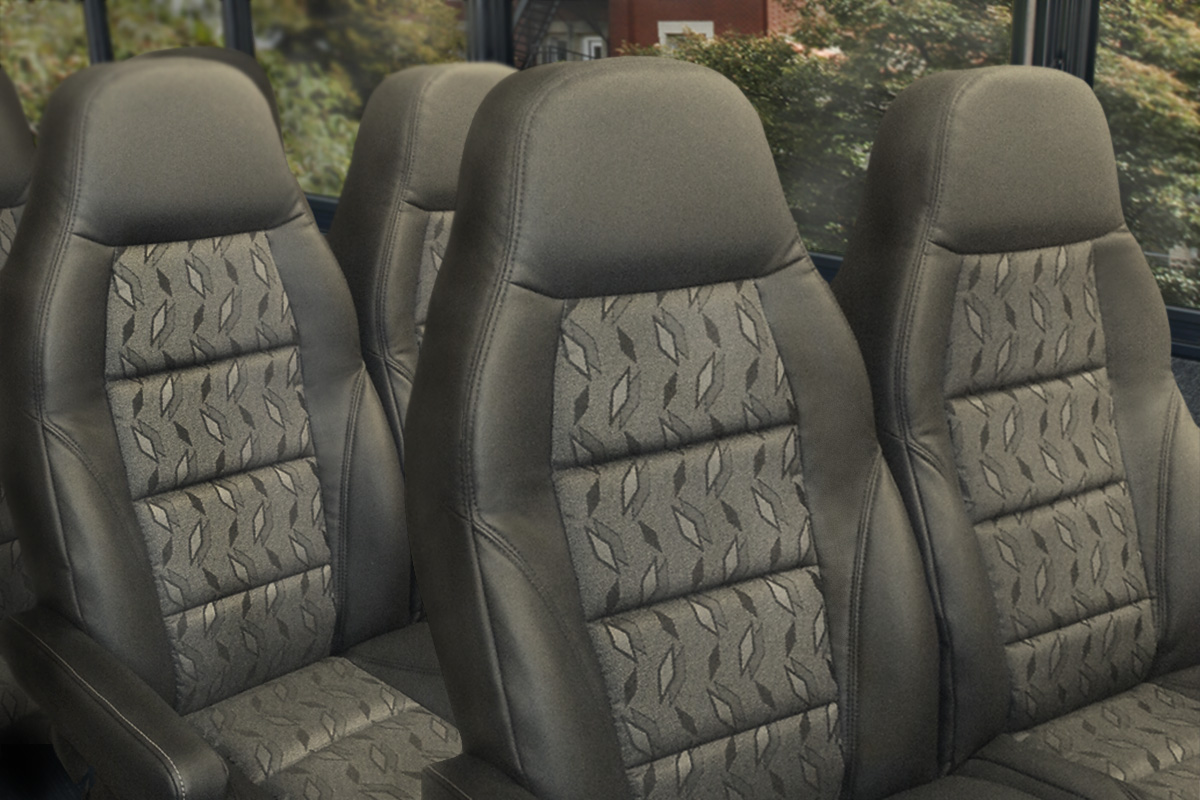 Freedman Seating Company purchases the assets of Braun Seating, The new company, Freedman Mobility Seating (FMS), produces seats for the mobility van market, as well as high line seating for the small and mid-sized bus market.
Best In Show at BusCon Expo
September 26, 2014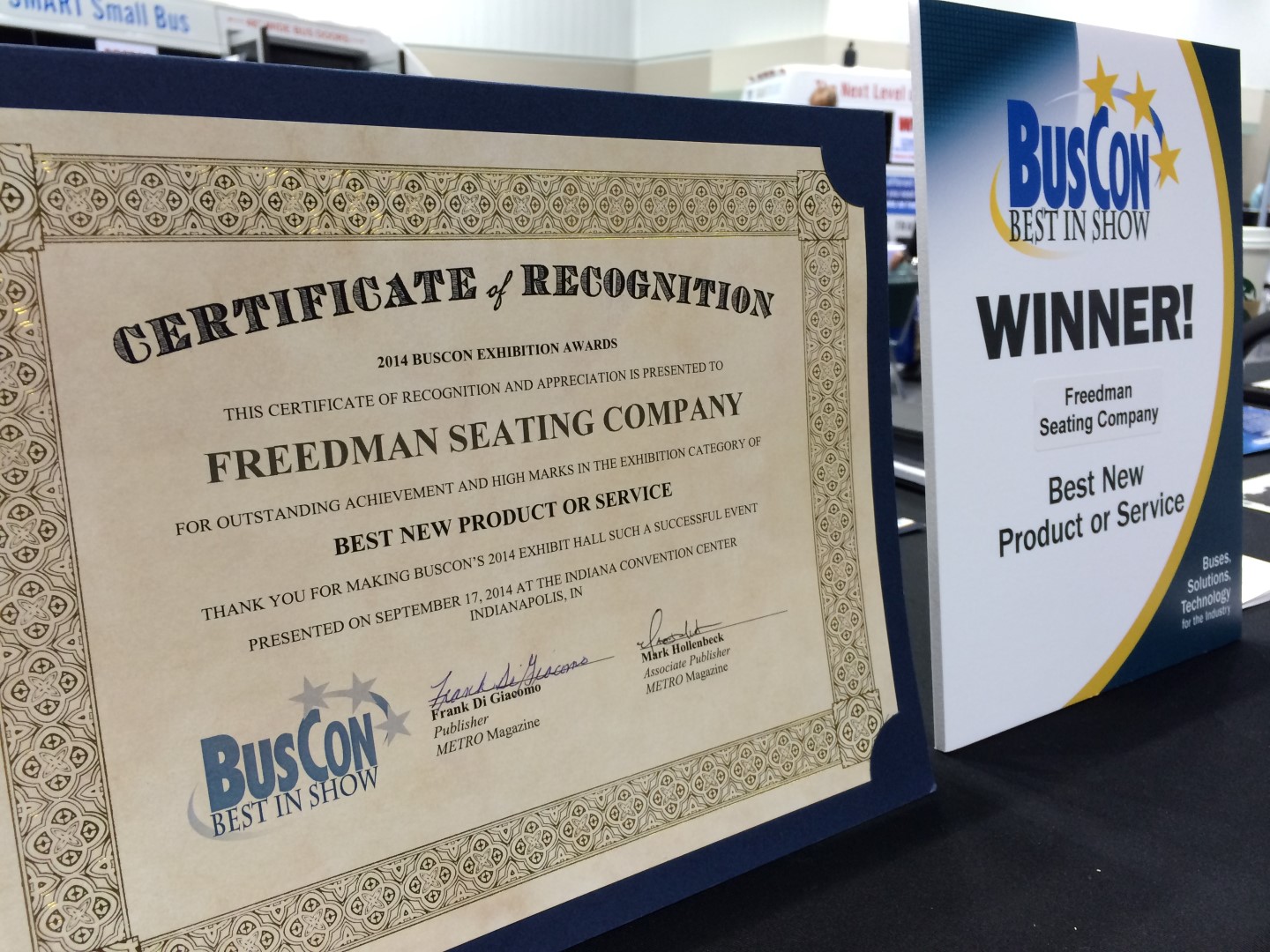 Freedman Seating was honored to accept the award for "Best New Product or Service" for the Eleganza Collection by FMS Seating. The new line of executive seating offers three distinctive seats with impeccable comfort and style: the Napoli, the Bellagio, and newest edition, the Trieste.
Facility Expansion
February 5, 2015
Craig Freedman is joined by Mayor Rahm Emanuel and Alderman Emma Mitts as we open our new Engineering and Purchasing Offices, part of a $10 Million expansion project resulting in an additional 200 jobs over the last two years.
Craig Freedman Appointed to U.S. Commerce Secretary's Manufacturing Council
February 11, 2015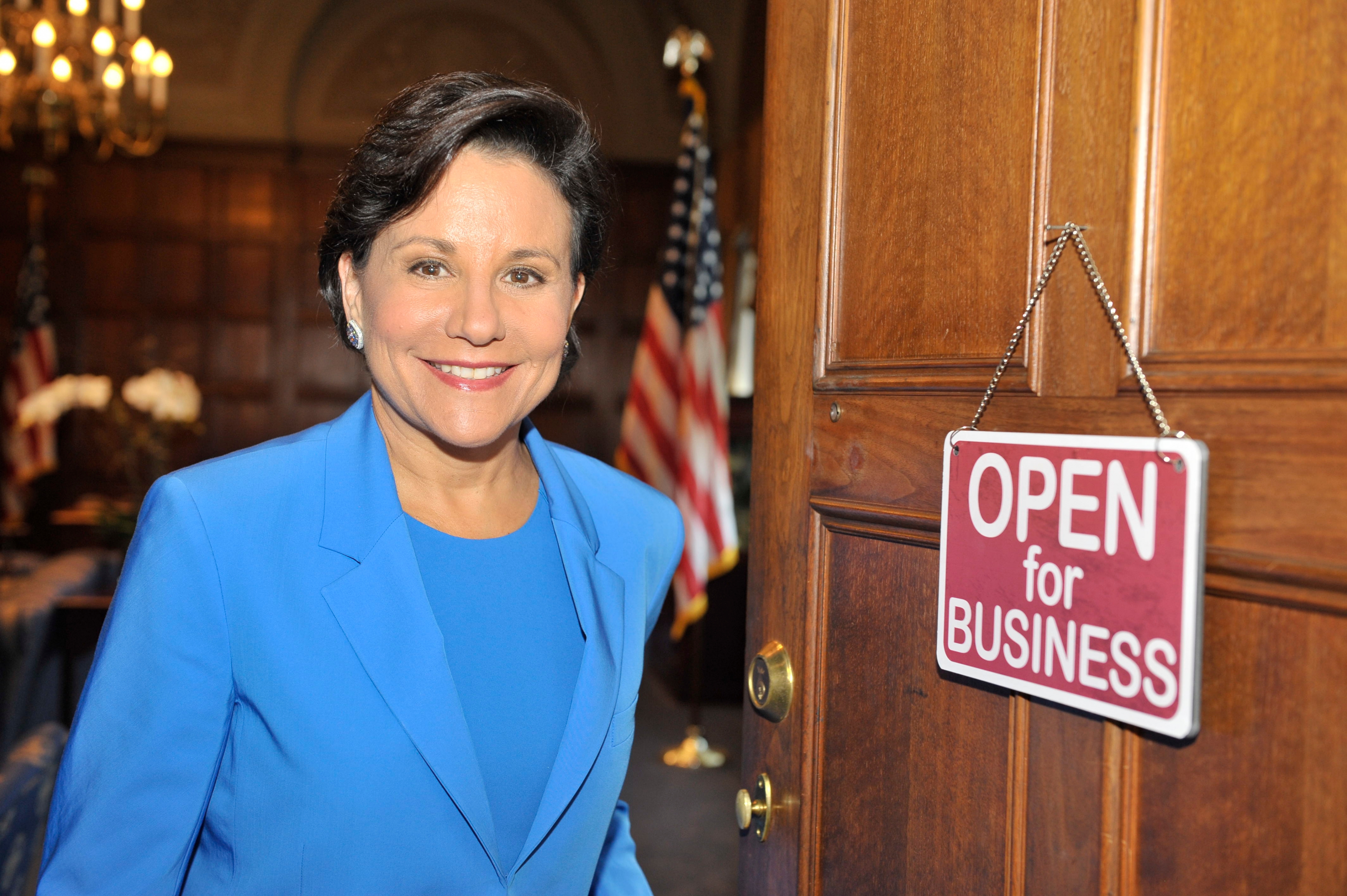 Comprised of 30 private sector leaders selected for their expertise and industry perspectives, the Council advises the Commerce secretary on policies to strengthen the manufacturing economy and create jobs.
Craig Freedman Honored with Diversity Award
August 11, 2015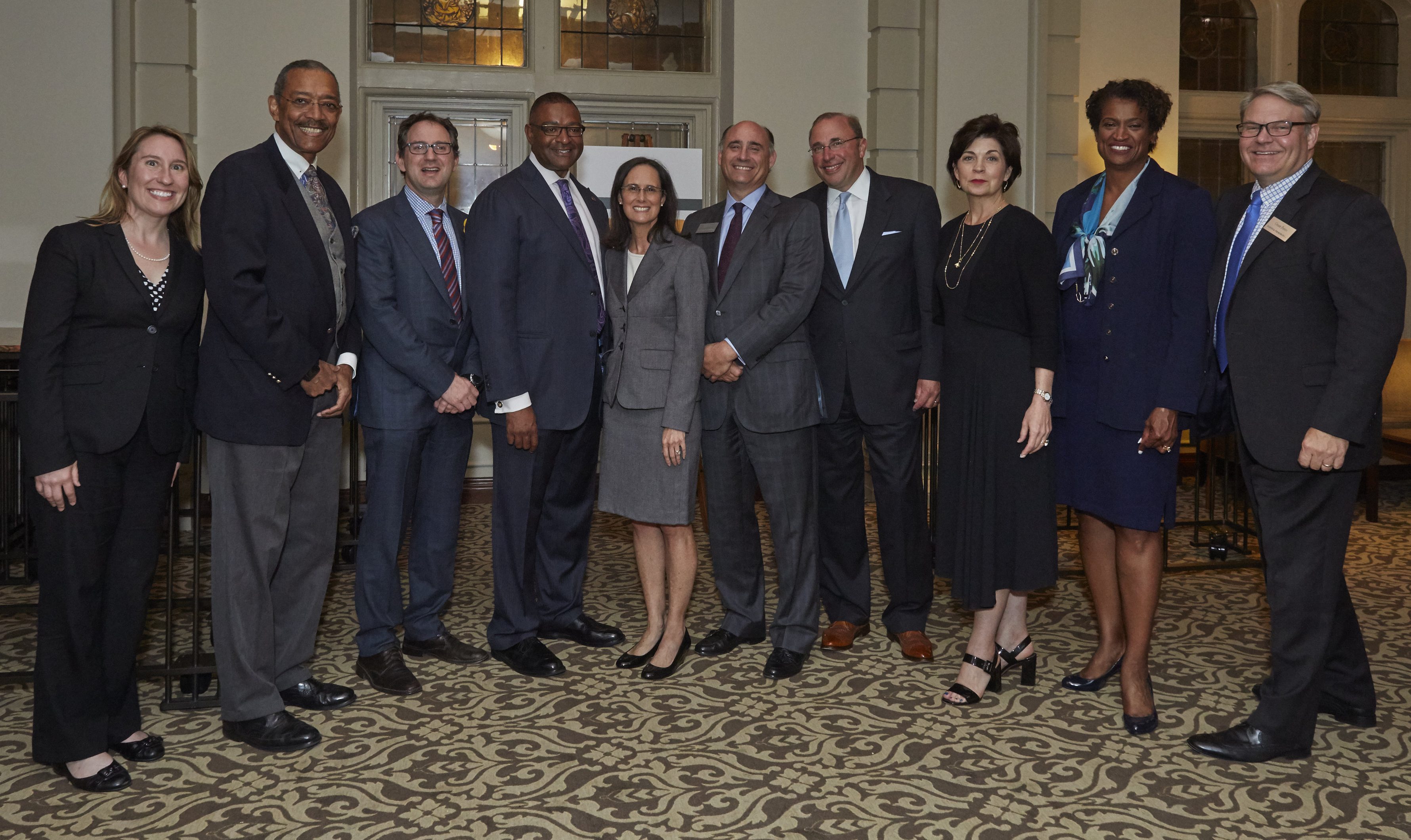 Barnes & Thornburg LLP sponsored its 6th Annual "Celebration of Diversity" reception and dinner honoring diversity trailblazers. Cook County Commissioner Richard R. Boykin (1st District) invited Craig Freedman, President, to be an honoree at this year's celebration held at the University Club of Chicago.
New Employee Gym Opens
May 2, 2016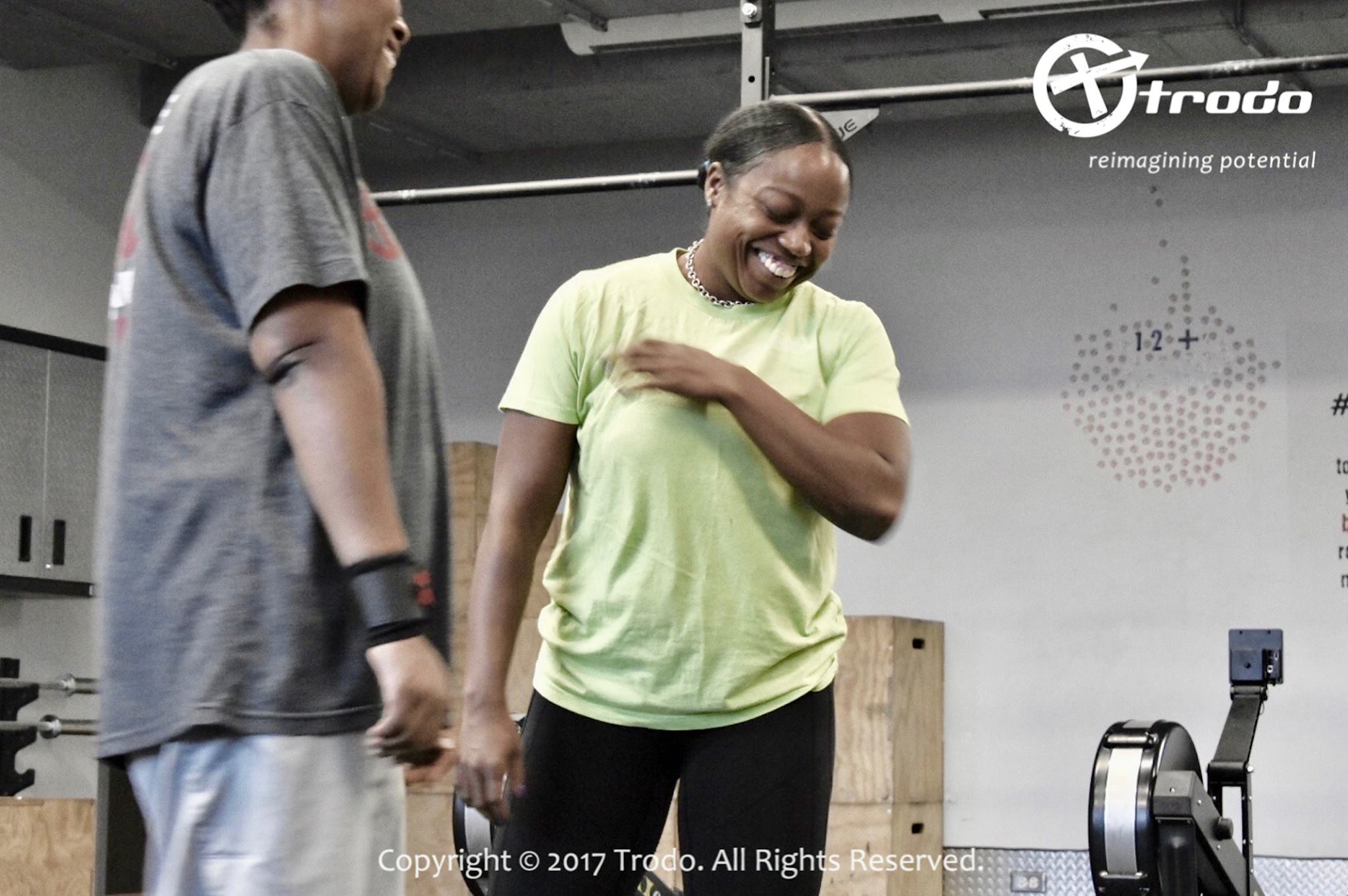 We are committed to the long-term well-being of our employees. Partnering with Trodo, we are elevating employee potential through individual and team development, and group-based functional fitness programming.
Freedman Seating Awarded NYC Ferry Project
August 1, 2016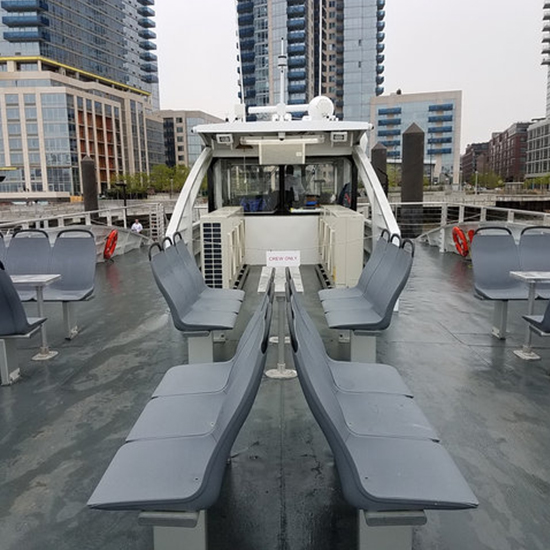 Freedman Seating was awarded the New York Citywide Ferry Service Project, which will include Freedman's Gemini seat throughout its 19 vessels. The new vessels built by Metal Shark and Horizon Shipbuilding will carry an estimated 4.6 million passenger trips per year.
Freedman Seating Adopts Environmental Policy Statement
March 9, 2017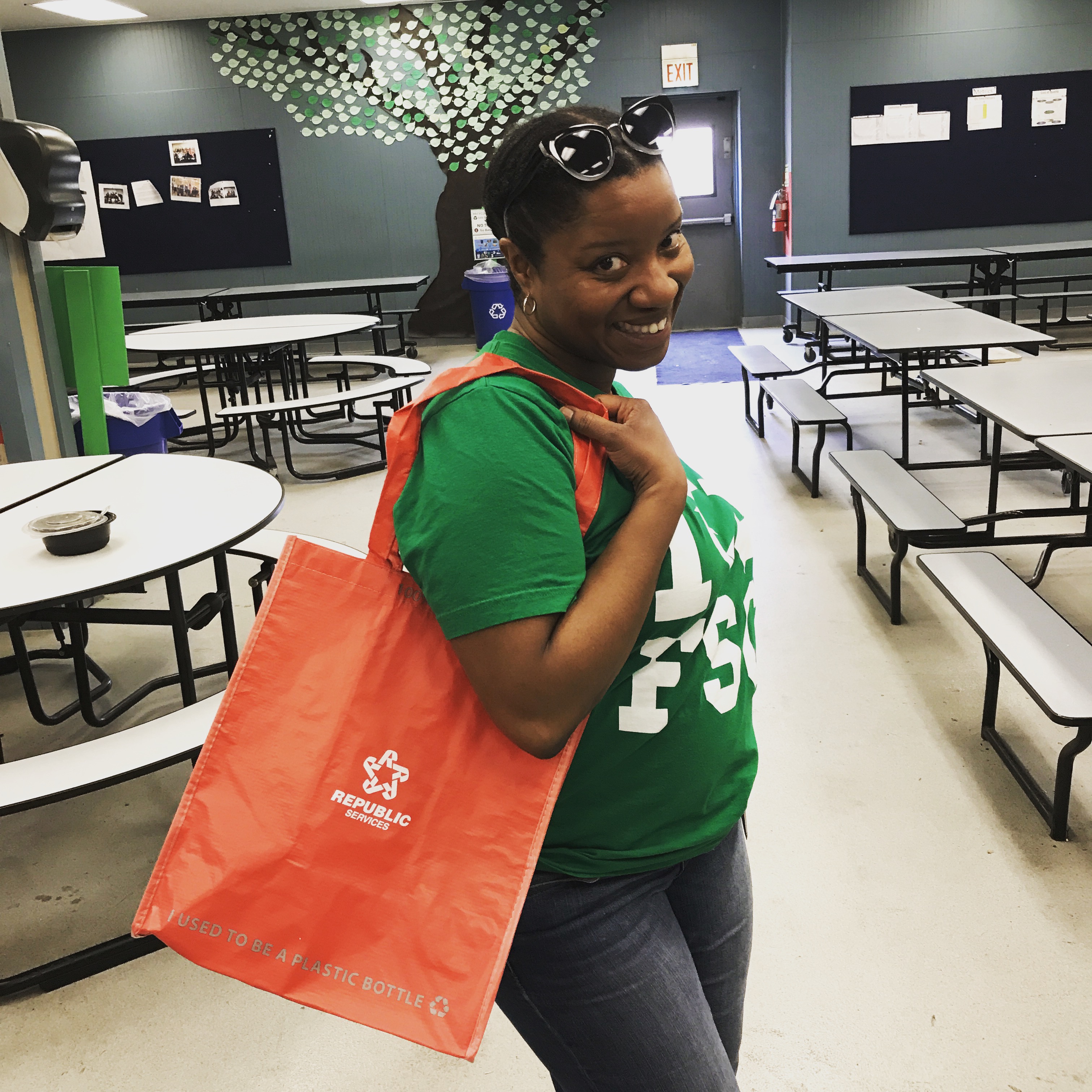 Freedman Seating Company is committed to managing the environmental impact of our operations. It is our policy to assure the environmental integrity and sustainability of our processes and facilities at all times.
Freedman Seating Sells Its Portion of 4ONE, LLC
July 31, 2017

In conjunction with the sale, USSC and Freedman Seating have entered into a long-term manufacturing agreement.
Transit USA Tour Completes 35,000-Mile Road Trip
November 30, 2017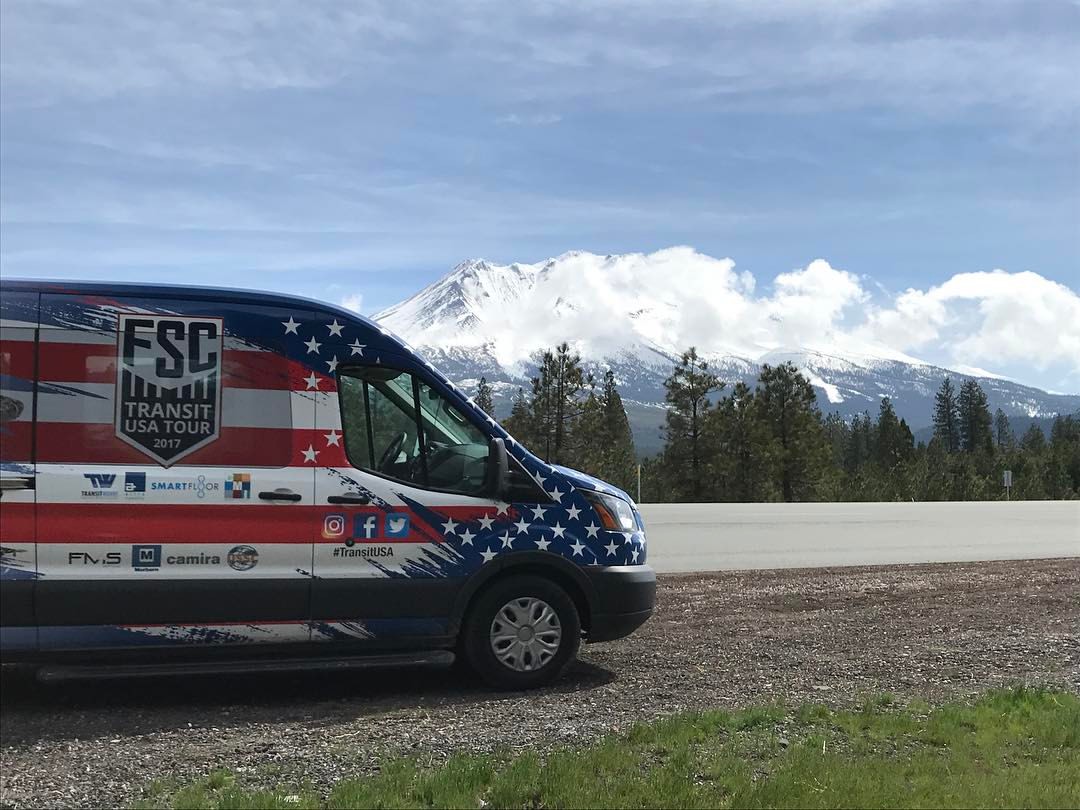 The #TransitUSA tour, featuring Freedman seats and other products made in America, kicked off on January 30th making its way to bus dealers, operators, manufacturers and trade shows spanning 40 states. FSC sales managers drove over 35,000 miles in a 2017 Ford Transit 350.
First 350-Passenger Boat Joins NYC Ferry Fleet in New York Harbor.
July 19, 2018

New "Ocean Queen Rockstar" ferry boat equipped with Freedman marine seats sold through Suburban Seating.