Freedman Seating GO-ES line of seats will be using seat belts from a new supplier.
All orders with a due date of June 26, 2023, or later, we will be using seat belts from a new supplier. This is a soft cut in date and there may be exceptions. If your order had a scheduled due date before 6/26/23 and it ships on or after 6/26/23, it will get the current belts. Cut in is dependent on the due date, regardless of when the order ships.
More details:
As with the current belts, the new belts meet or exceed all applicable safety standards including FMVSS 302 and 209.
The new belts are heavy duty and just as robust and reliable.
Freedman Seating has tested the new belts extensively to validate fit, form, function, and safety. You will see no change in performance or operation.
This change does not need any action on your part. You do not need to retest any seats in your vehicle. Remember, when we test seats on a platform or in a vehicle, we remove and replace the seat belts with cables or special test belts. The seat belts are NOT part of the FMVSS 207/210 test.
If extension belts are needed, they must be ordered to mate with the new belts. Extenders are not cross compatible.
New belts are rearward compatible to older frames with a new hardware kit (and new plastic side cover for foldaway seats).
Seats affected: GO-ES, GO-ES Flip, GO-ES Foldaway.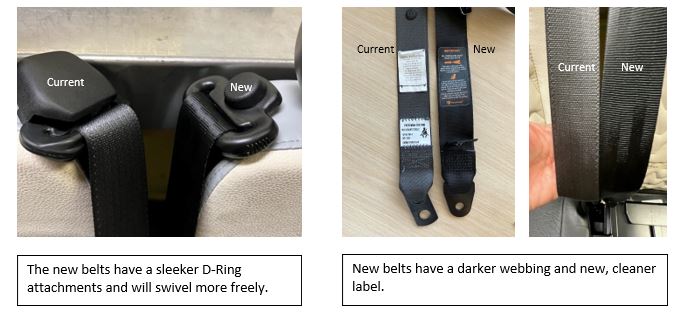 Please contact your regional Freedman sales rep or customer service at (773) 524-2440 for questions about these changes.