Second Annual Coolest Thing Made in Indiana Contest Tips Off Today
November 3, 2022 (INDIANAPOLIS) — The Indiana Chamber of Commerce's second annual Coolest Thing Made in Indiana tournament has officially tipped off with online voting now open at www.indianachamber.com/coolestthing.
The contest, which celebrates the state's long manufacturing history, boasts a 54-company field. There are a wide range of makers and their products entered from 43 Hoosier communities. The Hoosier Hysteria-style contest has quickly become one of biggest of its kind in the country.
"Like our inaugural contest, the response for the second annual competition has been tremendous, and we have seen an impressive array of manufacturers eager to compete for the Coolest Thing Made in Indiana title," says Kevin Brinegar, Indiana Chamber president and CEO.
The organization's goal with the Coolest Thing Made in Indiana program is "to showcase the wide variety of manufacturing taking place in the state that has helped our economy thrive," Brinegar adds.
Entered companies face off in a single-elimination bracket format with winners chosen through public fan voting. Each winner goes to the next round until the Coolest Thing Made in Indiana champion is crowned. For fairness, the initial matchups were generated via an online randomizer, notes the Indiana Chamber. Due to the number of companies entered, 10 teams received first round byes, selected at random.
"One of the really great things about this tournament is that it draws some really big companies – that make some very-well known products – who compete right alongside some emergent ones that are just starting to make their mark," Brinegar offers. "We expect to see some David vs. Goliath matchups, and you just never know how these contests will turn out.
"We encourage all entrants to get the word out to their staff, families, customers, partners and on their social media accounts to rally support for their product."
The field is comprised of manufacturers from Angola, Auburn, Batesville, Bloomington, Brownstown, Carmel, Columbus, Decatur, DeMotte, Elkhart, Evansville, Fishers, Fort Wayne, Garrett, Gary, Goshen, Greens Fork, Greenfield, Greensburg, Greenwood, Indianapolis, Jasper, Kingsford Heights, Lafayette, Leesburg, Logansport, Markleville, Merrillville, Muncie, Nappanee, Plymouth, St. Meinrad, Rensselaer, Richmond, Rochester, Sellersburg, Syracuse, South Bend, Upland, Walcott, Wawaka, Westfield and Zionsville.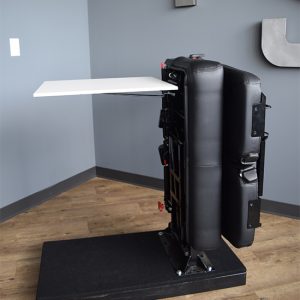 Included in the competition is the Palermo Campervan Foldaway Seat by FMS Seating (Rochester, IN). Freedman foldaway seats easily fold up against the vehicle wall, making way for storage, living/working space, or ADA passengers. The newly redesigned Camper Van Foldaway seat is the slimmest, lightest, and most customizable 3-point foldaway on the market. The upgraded SpaceSaver design provides even more space when the seat is in both stowed or deployed positions. DIYers and Van Lifers love this product because it provides additional seating for passengers of all ages, and securely stows away to make room for adventure supplies, living and working space. An added table easily attaches to the Foldaway when the seat is in a stowed position, serving as a standing desk or dinette.
A voter may vote once per matchup per round. The number of votes received will be reset at the beginning of each round. Voters must vote for all matchups in each round, including the ones with byes.
The first round of voting ends Monday, November 7; voting for the tournament concludes November 30. Below is the timing of each voting round; all times noted are in Eastern Time.

Round 1: November 3-7 (now through 9 p.m. EST on Monday)
Round 2: November 8- 10 (at 9 a.m.; closes 10:00 p.m. Thursday)
Round 3: November 11-15 (at 8 a.m.; closes 10:00 p.m. Tuesday)
Round 4: November 16-18 (at 8 a.m.; closes 10:00 p.m. Friday)
Semis: November 21-23 (at 8 a.m.; closes 10:00 p.m. Wednesday)
Finals: November 28-30 (begins at 9 a.m.; closes 9 p.m. Wednesday)
The Champion will be announced December 14 at the Indiana Chamber's Best IN Manufacturing Luncheon, which also features the first honorees in the Indiana Best Places to Work in Manufacturing program.
Coolest Thing Made in Indiana sponsors are spirit sponsor Purdue Manufacturing Extension Partnership (MEP); gold sponsor Gibson; and silver sponsors Evonik Corporation, Insperity, Nucor Steel Indiana, SMC Corporation of America and The Horton Group.
Entry in the contest is free. To participate, a company did not need to be headquartered in Indiana, but the product entered must be manufactured in the state. Companies are limited to having one product nominated for entry.