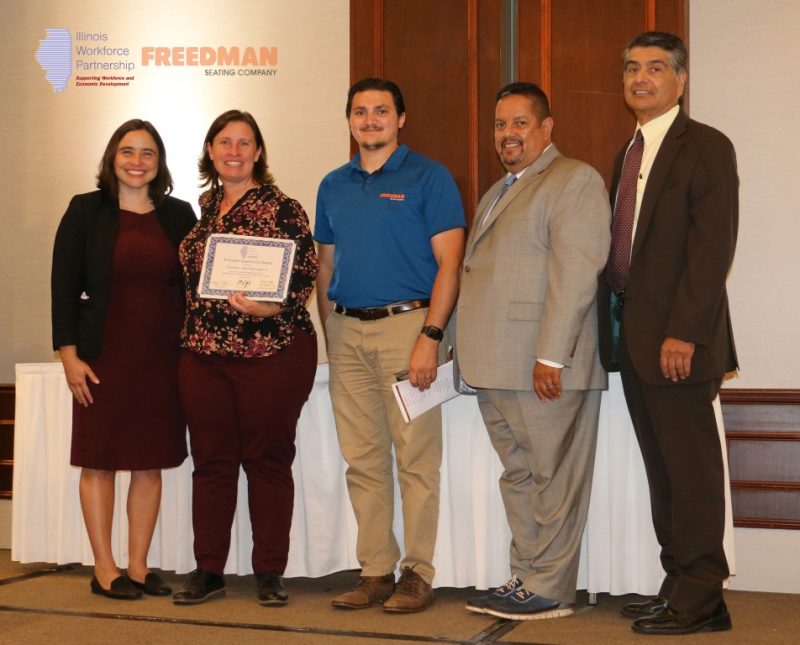 Illinois Workforce Partnership (IWP) presents award winners from across the state.
Each year, local workforce areas submit nominations and winners are selected by a panel of workforce professionals. This year, the IWP recognized Freedman Seating Company with the Business Leadership Award.
The Business Leadership Award is given to recognize a private sector company that has demonstrated leadership in the areas of workforce and economic development. In addition, the company may have made significant contributions to their local workforce innovations area during the past program year.
IWP advocates for the creation of a skilled workforce for our state's continued competitiveness and growth. They connect businesses and individuals to a wide array of resources utilizing our public workforce system. They are leaders who strategically engage a variety of local, regional, state and national partners in workforce and economic development to ensure program effectiveness.
Freedman Seating is committed to cultivating an environment where everyone is respected, valued, appreciated, and takes ownership of their work. We would like to thank Jane Addams Resource Corporation and The Chicago Cook Workforce Partnership for the nomination.