Freedman Seating Company will feature its latest innovations and solutions for bus and rail markets at APTA EXPO November 8-10 at the Orange County Convention Center. APTA's TRANSform Conference & EXPO is public transit's premier showcase of technology, products, and services.
APTA EXPO: RECONNECT & RE-ENGAGE
APTA EXPO is BACK after four long years. So much has changed since we last met – and the industry is more eager than ever to reconvene. We've been busy creating the ultimate EXPO experience for our members and fellow transit professionals. Join your colleagues for an unprecedented reunion full of exciting experiences and enlightening interactions. We look forward to welcoming you to Orlando in November!

The Lineup
On display at booth 2431, Freedman Seating will feature several new and existing products for various transportation applications.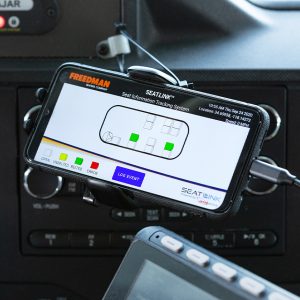 SeatLink™
Seat tracking information system powered by InterMotive, includes a head unit that displays, tracks and stores the occupancy and seat belt status of passenger seats in a vehicle. SeatLink™ is an expandable system up to 90 passengers for heavy duty, midsize, paratransit, school bus and more. Powered by InterMotive.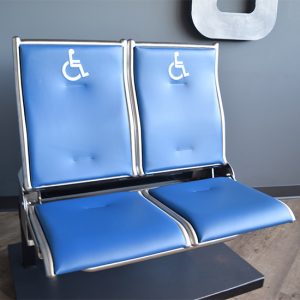 RSS Rail Seats: Engineered for maximum durability, safety and longevity. Freedman's stainless steel seats are the industry's preferred choice for any passenger railcar configuration. The most anti-vandal product on the market is designed to withstand the daily rigors of passenger use on the toughest routes. Space-saving shape provides more hip-to-knee and leg room, making it easier for passengers to enter and exit.
GO-ES: Designed for flexibility to accommodate your passengers' growing needs.  With easy customization, the GO-ES seat is shipped "option ready" giving you the flexibility to quickly add accessories in the field.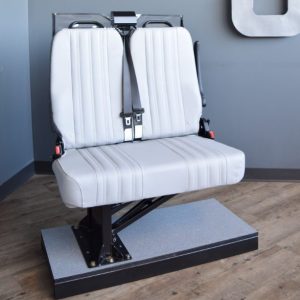 GO-ES SpaceSaver Foldaway:  The newly redesigned GO-ES Foldaway seat is the slimmest, lightest, and most customizable 3-point foldaway on the market. The upgraded SpaceSaver design provides even more aisle space (up to 2″) when the seat is in both stowed or deployed positions.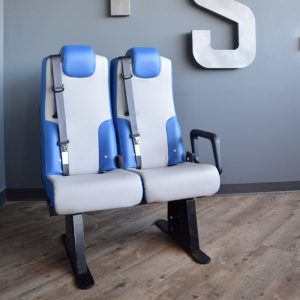 Family 3PTA School Bus Seat: Individual school bus seats, molded polyurethane foam and ergonomic contours provide comfort; while extensive testing and design ensure FMVSS 222 and 210 compliance. Whether you're busing kids to school or parents to the away game, Freedman seats get them there comfortably and safely. Now with adjustable integrated 3-point seat belts. Every seat meets the Quasi Static and 202A head and neck safety standa
rd.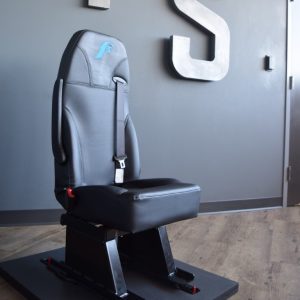 Commuter 125: Designed for commercial bus and van markets, the Commuter 125 Seat by Freedman Seating is lightweight, attractive, comfortable and safe. It's executive styling provides a first-class look without compromising weight or safety. Best in class hip-to knee makes this a perfect fit for vans, wagons and buses alike. This high-back seat meets FMVSS 210 and 202A. The "125" celebrates our 125th anniversary
and the year the new Commuter seat was designed and developed (2019).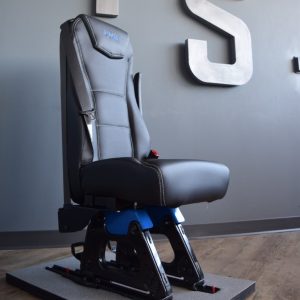 Palermo: Introducing the newest addition to the popular Eleganza Collection, the Palermo seat serves your economical needs without compromising style or comfort. The executive line by FMS includes the market's most complete seating solutions with luxury and safety at the forefront of its design and engineering. On display with Ford™ Transition Brackets — new transition brackets developed by Freedman Seating make it possible to install Freedman 3-point and FMS Eleganza seats onto existing Ford™ legs in a variety of floor plan configurations.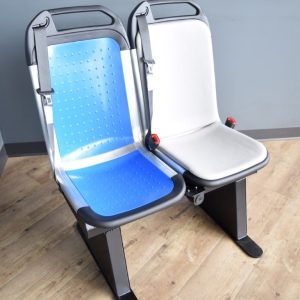 CitiPro 3PT: Ideal for small and mid-size buses and vans, the CitiPro 3PT by Freedman Seating combines comfort, style and safety! European styling, ergonomic design, and 3-point belts make the CitiPro 3PT a seat passengers want to sit in. The ultra-thin backrest provides exceptional hip-to-knee room.
The CitiPro is completely modular – any part of the seat can be replaced in minutes. It is perfect for short and medium distance trips. Upholstered with or without padding and in any vinyl or cloth. Non-upholstered cosmetic inserts make for a virtually maintenance-free seat.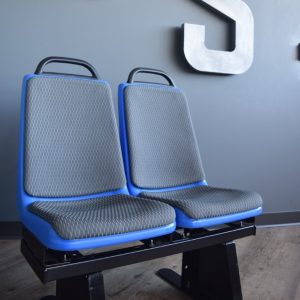 CitiSeat: The right seat for bus operators looking for strength, comfort, safety, and value. The CitiSeat is made from high quality injection molded ABS plastic, reinforced with steel tubing and fastened to a base frame. Each seat is individually molded to give passengers their own space. The CitiSeat can be upholstered in vinyl or fabric.
Amaya Motor Coach Seats: Alpha and Sigma
Freedman / Amaya coach seats are designed for over-the-road Coaches, Suburban and BRT systems, as well as mid-size and smaller buses. Transit operators will love the durability and safety while tour companies will love the comfort and styling.
Sport 2.0 Driver Seat: The Freedman Sport 2.0 Driver Seat is designed, tested and built to comply with all applicable FMVSS requirements. With standard recliner, 2-way adjustable lumbar and European styling, the Sport 2.0 is the ultimate in driver seat comfort and value.
Passenger Protective Equipment
This new line of safety enhancement adds another layer of protection to the industry's most trusted seating products, which are always tested to meet or exceed motor safety standards. Product line includes Passenger Sneeze Guards, Social Distance Seat Bands, Anti-microbial and Anti-bacterial seat covers, grab rails and armrests.
Freedman Seating is proud to partner with industry leaders to showcase the very best in transportation seating and safety solutions at APTA EXPO. Together we're manufacturing to keep North America moving, responding, and delivering hope.
Special thanks to our partners: Camira Fabrics, CMI Enterprises, InterMotive, Amaya-Astron, Gerflor, Altro, S&B Finishing Co, Ruspa, Bustextil, Chestnut Ridge Foam, Ster, United Safety & Survivability Corporation