Last year, in response to the COVID-19 pandemic, Freedman Seating introduced a new line of safety products intended to help curb the spread of germs on commercial and mass transportation. As we continue to navigate the new normal, we want to reassure our customers and the public transit community that health and safety remains a top priority when designing seating solutions. For this reason, we have decided to make our PPE (Passenger Protective Equipment) armrests and grab rails standard on all new orders. This will be a rolling change as we deplete existing inventory. Prices will not change as a result of this modification.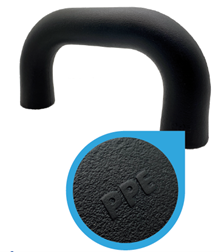 New Anti-Microbial Grab Rails and Armrests:
Clinically tested
Antimicrobial/bacterial, biocidal and antifungal
Additives are molded into the product, making the properties permanently part of the product
It lasts forever! Protective properties cannot be rubbed or washed off
Active ingredient is a naturally occurring material, used in hospital and clinical environments and is nonirritating to the skin
Clinically tested
Embossed "PPE" logo
Easy to add in the field
All parts are backward compatible
Available as the following:
US Arm
3PT Grab Rail (Black only)
202A Grab (Black or Yellow)
AV Grab (Black or Yellow)
CitiSeat Grab (Black)
Adding PPE is a significant step forward in improving safety and trust within our transit at a time when attracting and retaining customers is extremely tough. Additional PPE solutions can be found online at www.freedmanppe.com. We hope you'll consider adding these options to your fleet.
Please contact your regional Freedman sales rep or customer service at (773) 524-2440 for questions about these changes.