More than 1,000 companies have now joined Time To Vote, a business-led, nonpartisan coalition that aims to increase voter participation in the U.S. elections.
Voter turnout in the U.S. is one of the lowest in the developed world and one of the most common reasons people give for not voting is that they are too busy with the demands of life and work. The coalition, which represents more than six million workers in the U.S., is addressing this challenge by giving employees the time and the tools they need to exercise their right to vote in the November general election.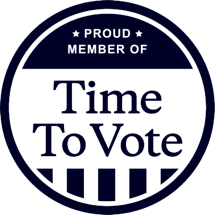 Freedman Seating Co. joined the coalition in October and plans to provide its employees Bonus Hours to use to vote early or on Election Day. In September, Freedman president Dan Cohen announced in a company-wide memo "as a result of employee feedback and to better foster an environment that embraces fairness, equity and expression of one's opinions and beliefs, we are happy to provide time for our employees to vote."
The 2020 elections are anticipated to face many unique challenges. With the ongoing COVID- 19 pandemic, the stakes for removing barriers to voting are higher than ever. Recent primaries have suffered from a lack of poll workers and malfunctioning voting machines, resulting in even longer wait times. Additionally, with the elections approaching in the midst of a global movement for racial equality, it has brought to the forefront how communities of color are disproportionately affected by systemic voter suppression and the role CEOs can play in helping to protect our democracy for all people.
"The need has never been greater for businesses to provide their employees dedicated time off to vote," said Dan Schulman, president and CEO of PayPal, one of the three companies that founded Time to Vote in 2018. "No American should have to choose between earning a paycheck and voting. Business leaders around the country must step up and do what's needed to ensure all of their employees will have the opportunity to have their voices heard this November."
---
Time to Vote is a nonpartisan, business-led initiative to help ensure employees across America don't have to choose between voting and earning a paycheck. Participation includes giving employees access to and information about early voting or vote-by-mail options, offering paid time off on Election Day or making it a day without meetings. Time to Vote was founded by Levi Strauss & Co., Patagonia and PayPal ahead of the 2018 midterm elections, when 411 companies representing all 50 states and a variety of industries joined. For more information, visit maketimetovote.org.
Freedman Seating is a seat manufacturer in Chicago, IL; designing, engineering, and manufacturing seat related products for many different markets, including small bus, mid-size coach, heavy-duty transit, rail, marine, delivery truck, and para-transit. Freedman Seating is an ISO 9001 registered company with an on-site A2LA Accredited Mechanical Testing Lab. www.freedmanseating.com
Contact: JP Paonessa, Marketing Manager
Phone: 773-524-2440 / Email: jp.paonessa@freedmanseating.com