Our design team has modified the popular GO-ES Foldaway to be even more attractive and space conscious. The GO-ES SpaceSaver Foldaway is designed to sit closer to the wall, adding aisle space when the seat is both deployed and stowed. See chart below.
| | |
| --- | --- |
| Dimension | SpaceSaver Advantage |
| Stowed aisle space ADA Clear Floor | + 1 3/8" |
| Stowed aisle space 1/4" above floor | + 2" |
| Deployed aisle space | + 1 3/4" |
The redesigned SpaceSaver Foldaway requires no new testing and uses the same BV floor plate and AM2 wall/floor plate for easy installation.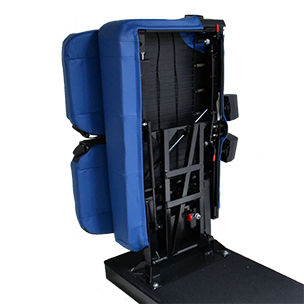 New features include a bench-style bottom cushion, recliner lever, and carpet back and wall-side trim for maximum durability. The GO-ES SpaceSaver Foldaway includes all other features and options that were available with the older model, including new PPE (Passenger Protective Equipment) Social Distance Seat Bands, Passenger Sneeze Guards and Grab Rail Covers.
Effective July 13, 2020, all new orders for the GO-ES Foldaway seat will include the new SpaceSaver design.
What does this mean to our customers?
All new orders for GO-ES Foldaway will default to the new SpaceSaver design.
We will work directly with customers to fulfill existing orders/contracts.
Replacement parts and covers for the original GO-ES Foldaway (non-SpaceSaver) will continue to be available.
Learn more about the redesigned GO-ES SpaceSaver Foldaway on our website: www.freedmanseating.com/seats/go-es-spacesaver-foldaway
---
Featured Closeout Upholstery
The recent discontinuation of several collections has made it possible for Freedman Seating to offer a limited quantity of plush fabric and other products at special pricing. A variety of overstock fabric and vinyl will be featured on a rotating basis. Browse featured closeout materials here.
If you have any questions regarding these updates, please contact your Freedman Seating representative.