On December 3rd, Freedman Seating partnered with Jane Addams Resource Corporation and Manufacturing Renaissance  to give the gift of opportunity on "Giving Tuesday."
In an remarkable showing of support and generosity, our community partners received over $8,300 in online donations. With Freedman Seating's matching contributions, a grand total of over $11,300+ was raised on #GivingTuesday!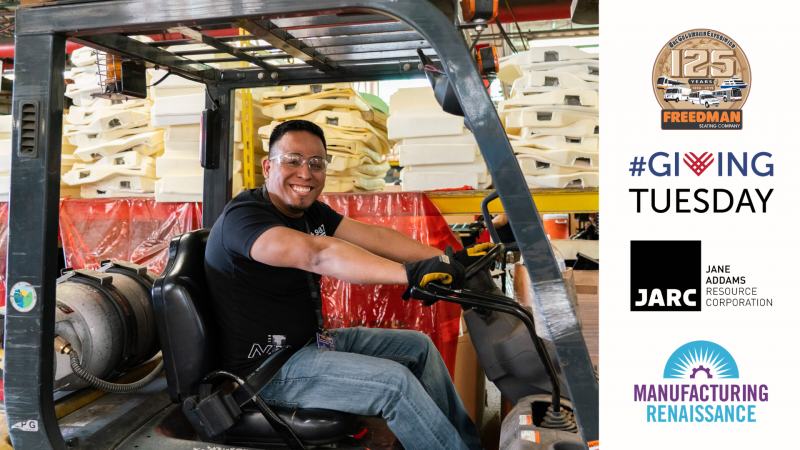 JARC is a Center for Working Families that focuses on job training and workforce development. JARC's job training programs target strategic skills gaps in the manufacturing sector, such as Computer Numerical Control (CNC) machinist and welder.
Now in its seventh year, #GivingTuesday is a global day of giving fueled by the power of social media and collaboration. Observed on the Tuesday following Thanksgiving (in the U.S.) and the widely recognized shopping events Black Friday and Cyber Monday, #GivingTuesday kicks off the charitable season, when many focus on their holiday and end-of-year giving. Since its inaugural year in 2012, #GivingTuesday has become a movement that celebrates and supports giving and philanthropy with events throughout the year and a growing catalog of resources.
Manufacturing Renaissance is a Chicago-based nonprofit organization, founded in 1982 in effort to address the wide scale loss of jobs and its impact on communities. Today, their Mission is to advance sustainable development anchored in manufacturing. ​MR's strategic approach is guided by a comprehensive understanding of sustainable development, as defined by the United Nations, and grounded in experience over the last 35 years. They are guided by these values: Social justice, Leadership development, Innovation in wealth creation, and Respect for workers, communities and the environment.
Jane Addams Resource Corporation was founded in 1985 as an economic development agency concentrated in the Ravenswood Industrial Corridor and focused on keeping good manufacturing jobs in the neighborhood. Their initial efforts focused on training for manufacturers and development and operation of commercial buildings for industrial use. In 2015 JARC launched a separate 501c3 affiliate in Baltimore, MD. More recently, they expanded programs to the Austin neighborhood on the west side of Chicago – a community of great challenges and opportunities.
Giving Tuesday Background
Created by 92nd Street Y—a cultural center in New York City that, since 1874, has been bringing people together around the values of service and giving back—#GivingTuesday connects diverse groups of individuals, communities and organizations around the world for one common purpose: to celebrate and encourage giving. A team of influencers and founding partners joined forces—collaborating across sectors, offering expertise and working tirelessly—to launch #GivingTuesday and have continued to shape, grow and strengthen the movement.
The Big Ideas
#GivingTuesday harnesses the potential of social media and the generosity of people around the world to bring about real change in their communities; it provides a platform for them to encourage the donation of time, resources and talents to address local challenges. It also brings together the collective power of a unique blend of partners— nonprofits, civic organizations, businesses and corporations, as well as families and individuals—to encourage and amplify small acts of kindness.
As a global movement, #GivingTuesday unites countries around the world by sharing our capacity to care for and empower one another.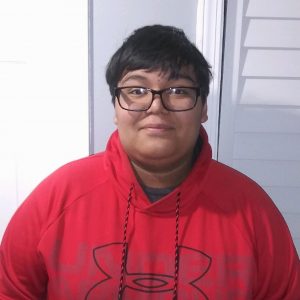 The Impact
Miguel graduated from the Manufacturing Connect program in 2017.
"The Manufacturing Connect program opened my eyes to the possibilities of careers in manufacturing. I didn't know that I was going to enjoy working in manufacturing until I got an internship and now I look forward to advancing my career in manufacturing."
Employment: Packer in the shipping & receiving department at Freedman Seating
Work Experiences: Summer job and Spring Break Internship at Zenith Fabricating
Industry credentials: NIMS Materials Measurement Safety and CNC Turning