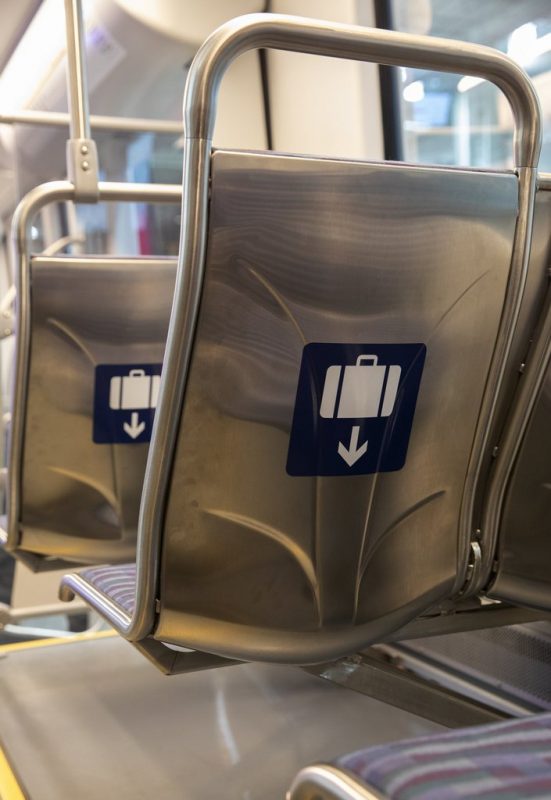 Seattle's transit riders who cherish personal space will be glad to know the next batch of light-rail trains are roomier in the midsection.
Sound Transit leaders and executives from Siemens Mobility on Wednesday displayed the first of 40 railcars to arrive before service to Northgate Station begins in 2021. Another 112 railcars will arrive as light-rail expands to Bellevue and Overlake in 2023, and downtown Redmond, Lynnwood and Federal Way in 2024.
The cars cost taxpayers $642 million, or $4.2 million per vehicle.
The new Siemens trains built in Sacramento, Calif., are more angular than the sausage-shaped Kinkisharyo trains that have operated here for a decade, though both provide 74 seats and nearly identical outer dimensions.
The interiors are bluer, and most important provide a 41-inch wide aisle through the middle, an 8-inch increase, and seven seats on either side. People can roll wheelchairs, luggage or bicycles through. Passengers seated in the center won't knock knees, or be stumbled on by strap-hanging standees.
Siemens engineered its new S-700 railcars "specifically with the riders of Puget Sound in mind," said Robin Stimson, vice president for business development, inside the Sodo train base. "It's open, it's safe, it's a high performance vehicle that we think everybody's going to enjoy."
Siemens added legroom by reducing the space behind central seats, where Kinkisharyo trains needed chambers for utility and ventilation lines on either side, said Tracy Reed, executive project director for Sound Transit.
Read the full story by Mike Lindblom, Seattle Times staff reporter.