Freedman Seating is proud to now offer a French/English version of our Priority Seating vinyl by Morbern. An English/Spanish version has been popular throughout the US transit industry.
Priority vinyl gives elderly riders, people who utilize mobility devices and others needing additional consideration a clearly marked place to sit.
Historically, agencies and private operators struggled to highlight the ADA and priority areas within a vehicle, especially when using vinyl upholstery. Making these areas stand out promotes a positive awareness that these seats and sections are reserved. Utilizing printing technology, customers now have the option to use Priority Vinyl on most seats to highlight the ADA/Priority zone and ultimately improve the passenger experience.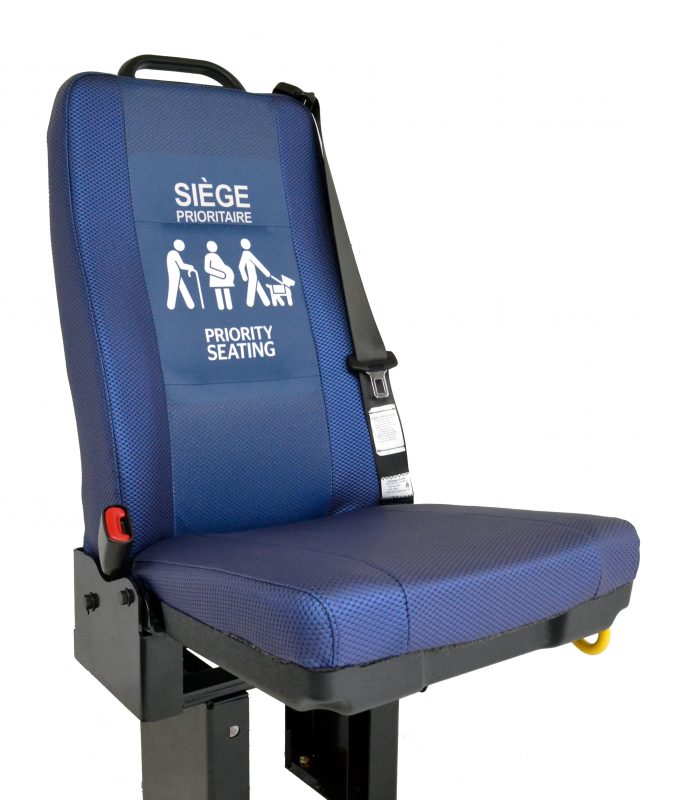 Using vinyl as the covering eliminates many wear-and-tear issues seen with traditional cloth materials, including fading or rubbing off of letters and symbols. The technology allows "Priority" graphics to be printed directly into the vinyl. This process results in a durable, long-lasting finish unlike traditional woven or silk-screen methods.
Available on GO, GO-ES and Feather Weight cushion or insert, Priority Vinyl has been designed specifically to pair with Morbern's Wave Freestyle Blue. Both Priority Vinyl and matching Wave Freestyle Blue are stain and chemical resistant, easy to clean and antibacterial and antimicrobial. As with all Freedman in-stock materials, these heavy-duty transit grade vinyls meet FMVSS No. 302 for flammability and smoke.
Please contact your Freedman Seating representative or visit www.freedmanseating.com if you have any questions or to request samples.
---
Mise à jour de produit – Nouveau vinyle pour siège prioritaire français/anglais
Freedman Seating est fier de maintenant offrir une version française/anglaise de notre vinyle pour siège prioritaire de Morbern. Une version anglaise/espagnole est populaire dans l'ensemble du secteur du transport en commun américain. Le vinyle pour siège prioritaire donne aux passagers âgés, aux personnes utilisant des appareils d'aide à la mobilité et à d'autres nécessitant une considération supplémentaire un endroit bien indiqué pour s'asseoir.
Historiquement, les agences et les opérateurs privés ont eu du mal à mettre en évidence les zones ADA et prioritaires à l'intérieur d'un véhicule, en particulier lors de l'utilisation de revêtements en vinyle. Faire en sorte que ces zones se distinguent favorise la prise de conscience positive que ces sièges et sections sont réservés. En utilisant la technologie d'impression, les clients ont désormais la possibilité d'utiliser le vinyle pour siège prioritaire sur la plupart des sièges pour mettre en évidence la zone ADA/ prioritaire et, au bout du compte, améliorer l'expérience des passagers.
L'utilisation de vinyle comme revêtement élimine de nombreux problèmes d'usure rencontrés avec les tissus traditionnels, notamment la décoloration ou l'effacement des lettres et des symboles. La technologie permet d'imprimer directement les graphiques « Priorité » sur le vinyle. Ce processus permet d'obtenir un fini durable, contrairement aux méthodes traditionnelles tissées ou sérigraphiées.
Disponible en option sur les coussins ou inserts GO, GO-ES et Feather Weight, le vinyle pour siège prioritaire a été spécialement conçu pour être associé au bleu Freestyle Wave de Morbern. Le vinyle pour siège prioritaire et le bleu Wave Freestyle assorti sont résistants aux taches et aux produits chimiques, sont faciles à nettoyer, antibactériens et antimicrobiens. Comme tous les matériaux Freedman en stock, ces vinyles de qualité supérieure pour le transport en commun répondent à la norme FMVSS n° 302 en ce qui concerne l'inflammabilité et la fumée.
Veuillez contacter votre représentant Freedman Seating ou visitez www.freedmanseating.com si vous avez des questions ou souhaitez demander des échantillons.