We are informing all customers of a modification to the Carpet Back fabric option on Freedman Seating delivery truck seats. The standard Gray Carpet Back (PN 64000064) will be replaced with Black Carpet Back fabric (PN 51318001-V5). We believe this update will enhance the overall aesthetic of our products while maintaining competitive prices.
Freedman Seating understands the importance of consistency and quality; therefore, this update will be permanent. The new Black Carpet Back will be introduced on all new orders that are going through the fabric cutting process beginning October 16th, 2017 ensuring that vehicles will maintain a consistent look with one color. The new black fabric maintains all the performance characteristics as the gray fabric and is FMVSS 302 compliant.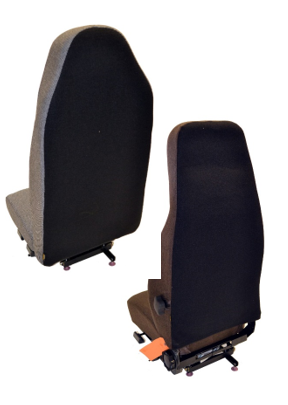 This modification pertains ONLY to delivery truck seating and will not affect our seats for the bus or passenger van market.
Part Numbers will not change for the affected color numbers.

64000064 Gray (carpet only)
51318001-V5 Black (carpet only)
Revision Levels will change for the following:

061 BROWN CORDURA W/ CARPET BACK
063 ETERNAL BLACK/BLACK w/ CARPET BK
065 ETERNAL BLACK/WHITE with CARPET BACK
067 ETERNAL BLACK/BALCK W/ CARPET ON BACK ONLY
271 UPS-CK cloth with carpet back
086 MERCURY GRY, WITH CARPET BACK
087 REGIONS PACIFIC BLACK W/CARPET BACK
Q7-CB Pacific black + CARPET BACK
Freedman Seating believes this modification falls within an acceptable tolerance range and will continue to provide excellent products and services to its customers. Please feel free to contact your Freedman Seating representative or visit www.freedmanseating.com if you have any questions or to request a swatch sample.